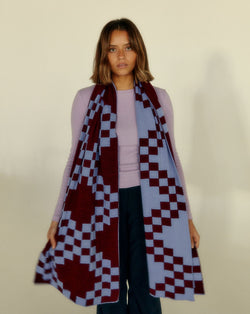 Curio Practice – Berry Chains Scarf
Wrap yourself in luxury with this generously sized merino wool scarf. Showcasing CURIO's signature chain check pattern. This heavy scarf is designed to provide ultimate warmth and coziness, perfect for everyday wear.
–
Launched in October 2020, CURIO is a practice in slow craftsmanship and responsible knitting, partnering with ethical factories and using consciously selected Australian Merino wool yarns to create heirloom-quality blankets for the everyday. Founded by material designer Georgie Brunmayr, CURIO was born from a desire to create a product of technical excellence, comfort and beauty, with lifelong durability.
Material: 100% Australian Merino Wool
Dimensions: approx. 200 x 40cm