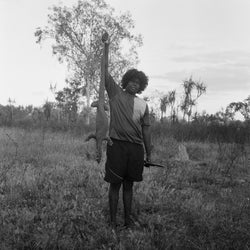 Corben Mudjandi
Corben Mudjandi – 'Untitled', 2022
Mirarr Country.
"I was out bush hunting with my family and saw this goanna looking at us. It was so big we took it home and were able to feed a whole house, everyone was very happy about it. We got lucky! Goanna is a main food source for my people. I took this photo on my Yaschica 124g twin lens camera and the person holding the goanna is my cousin Ralphy."
—
Corben Mudjandi is a Mirarr Traditional Owner of Jabiru and parts of Kakadu and West Arnhem Land. Working predominantly with film photography, his practice explores being on Country, hanging with family, hunting and being in nature. Recent works speak to a feeling of loneliness while he lives and works 30kms away from family in the township of Jabiru. In 2022 Mudjandi had his first solo exhibition at Brunswick Street Gallery, Naarm/Melbourne and in 2023 he was announced as a finalist in the Churchie Emerging Art Prize at the Insititue of Modern Art (IMA), Meanjin/Brisbane. In June 2023 Mudjandi exhibited a new body of work in Sicily, Italy, at the FARM Pavilion for the The Biennial of the Cities of the world. Mudjandi has photographed for clothing brand North and currently works for Gundjeihmi Aboriginal Corporation as a labourer and as a board director. Mudjandi's family played a significant role in the resistance movement to uranium mining on Mirarr Country during the 1970s and 1980s. 
—

YARN
July 1 – September 16
Curated by Jahkarli Felicitas Romanis
Brad Webb, Carissa Gurwalwal, Corben Mudjandi, Kim Ah Sam, Leanne Namarnyilk, Nicholas Currie and Tarryn Love.
Storytelling is central to Aboriginal culture. It is rooted in Country, family, and spirit. Aboriginal and Torres Strait Islander people have been storytellers for millennia, passing knowledge from one generation to the next.

Presented as part of NAIDOC week, YARN connects to this year's theme, 'For Our Elders.' Elders are the advocates, trailblazers, knowledge holders, guides and pillars of our communities. They have fought for the rights of Aboriginal and Torres Strait Islander people, ensuring the survival of the longest-living culture in the world. They are the reason we are able to thrive and be proud of who we are.

YARN brings together the work of seven Indigenous makers. Woven within each artist's practice are the stories, lived experiences, knowledges and relational connections to Country. This exhibition draws on important oral histories and the significance of knowledge sharing through conversation and listening. Each artist is an agent of their voice, speaking to the gravity of arts practice as a form of storytelling.
Material: Inkjet print on Ilford Cotton Rag
Dimensions: 110 x 110cm framed