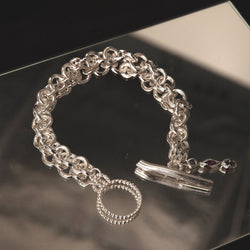 Bobby Corica
Bobby Corica — The Fuoco Charm Bracelet
A handmade chain bracelet adorned with lab-grown rubies set in a silver charm featuring a statement toggle clasp.
—
Sguscio Studio was founded by Naarm/Melbourne based silversmith and jewellery designer Bobby Corica. His work references genetics, memory and family, drawing from his Italian heritage. Chain making techniques intersect with his love of recycling waste materials, resulting in diverse, one-off pieces.
Corica exhibited in the New Assemblage Showcase for Melbourne Design Week, 2022 and the group exhibition Pearlescent at JamFactory, 2022. He has adapted a self-directed learning style leading to a less restricted and more intuitive approach to his practice.
—
Material: 925 silver, lab-grown rubies
Dimensions: (length) approx. 19cm