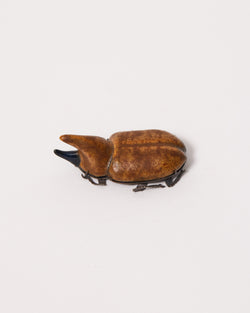 Samantha Dennis —Coleoptera Brooch-V
Samantha Dennis creates jewellery pieces to contemplate the phenomena of life and our (human) relationship to it. She is fascinated by natural history practices, particularly taxonomy (the science of ordering and classifying), and how the scientific way of looking at nature is often at odds to commonly held personal sentiments; for example, a coleoptera collection of carefully pinned and labelled insects conjures curiosity, inviting close inspection and generating an appreciation for the intricate beauty and design of the creatures, yet many people will still respond with horror, fear, or disgust at the idea of getting so close to the same creature 'in the wild'. Dennis's engagement with material is not coincidence, each substance is considered and engaged for its historic and social meanings, adding undercurrents of information and implication: pieces in the Coleoptera series are crafted with the likes of porcelain, sterling silver, and sometimes pearls. The pieces in the Coleoptera series are unique state items unless otherwise noted.
—
Samantha Dennis is a visual artist, working across jewellery, installation, and sculpture, based in Lutruwita/Tasmania. Her work navigates themes from natural history and the material qualities of fine crafts, such as goldsmithing and ceramics. Reflecting on the relationship between people and nature she has a particular interest in how we conceive animals that are often considered unrelatable, undesirable, unfamiliar.
Dennis is the winner of the 2016 Artentwine Biennale Small Sculpture Prize, the 2019 Design Tasmania Jewellery Award and the 2019 FIND Gallery Jewellery Bursary. Dennis is currently undertaking a PhD project with University of Tasmania.
—
Material: stoneware, glaze, sterling silver, steel pin, epoxy
Dimensions: approx. 15 x 5 x 5cm