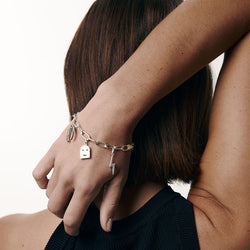 Meadowlark x Nell - Nell Charm Bracelet in Sterling Silver
A melody of the most iconic symbols from renowned Sydney-based artist, Nell. A ghost, LUCKY horseshoe, headstone, lightning bolt, and shell - forged together forever in a joyously subversive take on tradition. Hung from a 19cm bracelet. 

  —
Ignited by the union of two restless intellects - designers Claire Hammon and Greg Fromont - MEADOWLARK'S celebrated 'love story' narrative represents a tribute to art and nature, that is driven by a need to create and to connect. The MEADOWLARK x Nell collaboration began as an enduring Instagram romance - a mutual admiration of design, self-expression, simple pleasures, and the joy of being that led to an intimate meeting of creative souls.
'It has been an absolute joy to see the symbols and characters I have worked with for many years, materialise at an intimate and wearable scale across this bespoke jewellery collection' - Nell.
  —
Materials: Sterling Silver
Dimensions: chain length: approx. 19cm