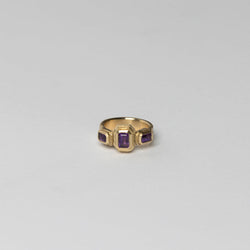 Juan Castro — Purple Amethyst Ring II in 9ct Yellow Gold
A finely crafted statement ring in 9ct yellow gold, featuring a central amethyst stone, offset by two stones set along the band.

—
Juan Castro is a social and cultural anthropologist and artist. The connection between anthropology and contemporary jewellery design arose from his final thesis, which focused on adornments and body modification through different cultures and the way in which it develops in contemporary society. His practice is based on traditional techniques and the inspiration of antique jewellery, all seen from a contemporary point of view.
Castro studied at the University of Seville and completed an Advanced Diploma of Jewellery and Object Design at Melbourne Polytechnic, 2016.
—
Material: 9ct gold, amethyst
Dimensions: ring size M please enquire for custom sizing