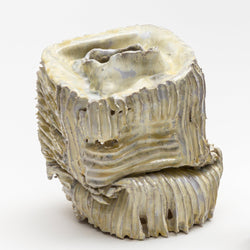 Jess Dybing — Carved Cube #1, 2022
Jess Dybing (she/her) is a ceramic artist based in Naarm/Melbourne and a graduate of the Bachelor of Arts (Fine Art) Ceramics, RMIT. Her work explores the changing states between flow and matter on the pottery wheel.
Whilst the process of throwing strongly dictates the creation of her forms she enjoys reclaiming her agency by "deviating" away from a flawless clay surface. Through actions of hand tearing and surface perforations, the vessel's skin is disturbed and ideas of perfectionism are challenge.
–
11 March - 29 April 2023
Celebrating 30 years / Fresh! since 1993
Celebrating the next wave of Victorian graduates in contemporary craft and design. Presented annually since 1993, Fresh! showcases the energy, skill and innovation of some of the best graduating students from craft, design and fine art disciplines throughout the state.
Fresh! provides an important opportunity for graduates beginning their career as makers. The exhibition fosters the potential of graduating students and provides an insight into new directions of contemporary craft.
30 years of Fresh! In 2023, we're celebrating the 30th anniversary of Fresh – stay tuned for more as we look back at some of the incredible artists that are Fresh! alumni and where they are now!
Finalists -
Joanne Odisho 
Arthur Nyakuengama
Lachlan Cashman & Sam Blomley 
Jedda Bahloo
Jess Dybing
Beth Sanderson 
Mariana Blanco 
Lyras Daear
Richard Monger 
Material: Stoneware Ceramic and crystalline glaze.
Dimensions: 30cm x20cm x15cm.
Please note, all works will be available for collection at the end of the exhibition on April 29. For shipping enquiries, please contact shop@craft.org.au who will be available to provide an Art Courier quote.