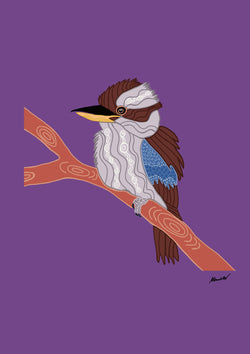 Emma Bamblett — Archival Quality Print
Emma Bamblett is a proud Wemba Wemba woman with connections to the Ngadjonji, Gunditjmara and Taungurung people. 
Most of Emma's artwork is deeply personal, representing the stories and struggles for vulnerable children, youth and families through whom she meets in her occupation. Emma prefers to paint with bright and vibrant acrylic colours in her artwork, as she hopes people see and feel what she is feeling when they look at her paintings. 
——
Materials: cotton rag art paper, ink, unframed

Dimensions: 
A3 (29.7 x 42mm)
A2 (42 x 59.4mm) Please note: This size has a 5 week lead-time for printing
A1 (59.4 x 84.1mm) Please note: This size has a 5 week lead-time for printing