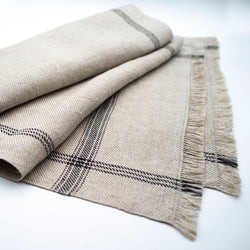 Billie Jo Fookes — Handwoven Table Runner
A handwoven table runner in natural flax with charcoal stripe detail. A luxurious addition to the table.
—
Billie Jo Fookes is a woven textile designer based in South West Victoria, Australia on Maar Nation Country. She had a long history of engaging with structural textiles before formalising her qualifications with a BA in textile design from RMIT University in 2019. Her previous studies in social science and psychology inform Billie Jo's approach to textiles, with a particular interest in the connections and interactions people have with textiles. Longevity and the concept of the heirloom are the main drivers behind the work that she produces, resulting in very limited quantities and an appreciation of weaving as an art form.  
—
Material: hand woven linen
Dimensions: approx. 42cm x 185cm