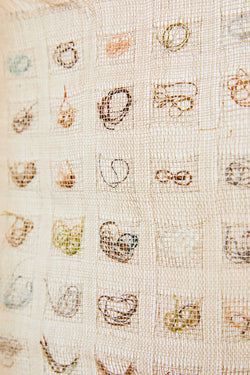 SHOP@Craft
Artist Talk / Amanda Ho
Saturday 11 December, 11am
Join weaver, Amanda Ho, for an artist talk alongside her exhibition in the Members Vitrine Gallery. Learn about the background to the pieces in the exhibition and images to illustrate the inspiration.
RSVP essential
Secret Life of a Tapestry
Amanda Ho
16 November - 11 December 2022
A tapestry was sent in to the Australian Tapestry Workshop to be professionally cleaned when Amanda Ho was an Artist in Residence in 2019. The tapestry was being cleaned for the first time since its completion. Ho was interested in the cleaning process - fascinated by the outcome. The tapestry was divided into a 6 x 6 grid and each portion was vacuumed with a new filter. The filters were documented corresponding to the grid and formed an interesting pattern. In the exhibition, the woven pieces interpret this 'dirt' pattern, and attempt to tell the tapestry's stories and secrets.