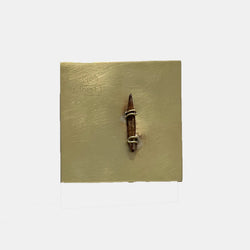 Dale Hardiman, ACV studio
Dale Hardiman and ACV studio, Pin 02, 2022
Taking cues from the objects salvaged from the Metro Tunnel dig, we were struck by the seemingly informal notations that described the materials by the archeology team, handwritten onto their packaging in a shorthand that was to us cryptic. Each object is 'set' onto a brass tile, engraved with an almost exact reproduction of the accompanying handwritten text, as a talisman of their collection and demarcation within the strata of the living city that has grown upon them and unearthed them in the pursuit of modernisation.
Upon purchase works can include either pendant chain or broached pin.

Melbourne based designer Dale Hardiman is the co-founder of furniture and object brand Dowel Jones and collaborative project Friends & Associates.Hardiman explores the social, ecological and political life of materials and the systems through which they are made and supplied by working across various fields including furniture, lighting and accessory design, event and exhibition design, art direction and branding.In 2021, Hardiman was named 1 of the 100 worldwide game changers in design by Architectural Digest Italy.
Anna Varendorff is an artist and designer working in Naarm/ Melbourne. She works with conceptual jewellery, installation, sculpture, design and production and has amassed an almost cult following for her distinctive curved brass sculptures, created under the name ACV Studio. She has exhibited in Australia and Internationally since 2004 including at the Victoria and Albert Museum, London, the Australian Centre for Contemporary Art (ACCA) and with Local Design in Milan in 2017, 2018 and 2019.
UNEARTHED
Featuring: Ruby Aitchison, Claire McArdle, Jack Balfour, Juan Castro, Dale Hardiman with ACV studio, Jenna Lee, Tantri Mustika and Iluka Sax-Williams with Dan Bowran.
Burnt, fired, melted down, and re-imagined. Ten artists transform discarded archaeological fragments uncovered from the Metro Tunnel Project's dig sites in a new exhibition at Craft this October.
Material: archaeological fragments [nail], brass pins
Dimensions: 10 cm x 10 cm