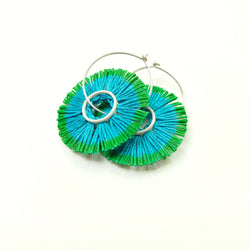 Vicki Mason — 'Tropical Night Stamens' Fringed Hoop Earrings in Teal
A unique pair of statement fringed earrings in teal linen with hand dyed green tips woven onto a beige powder coated brass. They swing gently on sterling silver hoops.
–
Vicki Mason is a contemporary jeweller making in Naarm/Melbourne. Interested in the relationship(s) between plants and humans in a contemporary context she uses her work to communicate stories about life, through plants, while also seeking to build knowledge and raise awareness about the natural world in a technologically-focused age. Her practice is informed by material discourses between metal and textiles and moves between high tech industrial processes that she outsources, through to low tech domestic techniques and traditional goldsmithing techniques to produce work less bound by traditional orthodoxies.  
Mason has exhibited throughout Australia including Craft Victoria and E.g.etal and Internationally. She has had work acquired for collections both nationally and globally including China, United Kingdom and Sweden. Mason completed a Bachelor of Arts majoring in Classical Studies at the University of Otago, New Zealand, 1992, a Diploma in Craft Design at Otago Polytechnic, New Zealand, 1995, a Certificate IV in Training and Assessment at Box Hill Institute, Melbourne, 2006 and a Master of Philosophy (Gold and Silversmithing) at the Australian National University, 2011.  
–

Materials: powder coated brass, linen, sterling silver, fabric paint

Dimensions: approx .5 x 3.7 x 2.5cm