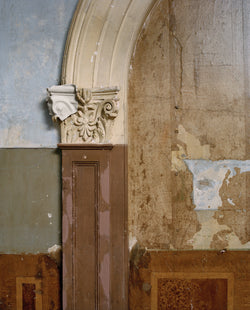 Tasha Tylee and Belle Thierry
Tasha Tylee and Belle Thierry – 'Remnants I' 2023
Remants I is a limited edition photographic print from Tasha Tylee and Belle Thierry's collaborative photographic exhibition Remnants, showing on the streets of Melbourne as part of Craft Contemporary.

Remnants is a series of photographic works and material pressings observing the time-worn beauty of 'boom-style' architecture throughout regional Victoria. The series explores the effects of time on architecture and a sense of faded grandeur.

'Boom-style', a period of wealth-injected architecture, is characterised by its use of ornamentation and exuberance and was popular throughout central Victoria during the late 19th century alongside the newfound prosperity from goldmining. The heritage details of this bygone era are recorded using malleable porcelain and copper sheets pressed into key areas from four 'boom-style' buildings in Bendigo, Castlemaine and Clunes. The small pressings are captured on analogue film - first as fragments within their architectural context and then as objects isolated from their original settings. Together, the images and the objects, express an intimate experience of material and history, becoming modern-day relics of the era.
—
Belle Thierry is a visual artist based in regional Victoria whose practice incorporates elements of ceramics, sculpture and mixed media. Materiality is a critical aspect of Thierry's practice - each material chosen is shown in its most authentic state, highlighting its integral qualities and innate disposition. Her current work explores material engagement with architectural space, capturing details of ornamentation in heritage architecture through a series of 'pressings'. These fragmented pressings act as vessels for emotions, contemplations and memories of place.
Tasha Tylee is a photographer currently based in Daylesford, Victoria. Her practise focuses primarily on Architecture and Interiors photography. Tasha shoots the majority of her work on medium and large format analogue film and works predominantly with natural light. Her work evokes emotion and atmosphere through her use of colour and light. She enjoys the challenge of capturing the narrative and mood of a space through her imagery.
—
Remnants Poster Walk 
September 25 – October 22
Dimensions: A2 paper size (unframed)
Materials: Archival quality giclee print on photographic paper
Limited edition of 10
Works are printed to order – allow 2 week-4 week lead time