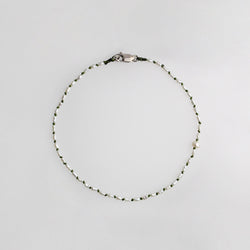 Taë Schmeisser — 'Proteus' Seed Pearl Bracelet
This unisex 'Proteus' pearl bracelet incorporates fine rice seed pearls and decadent gold. Best that no water comes into contact with this piece.
—
Taë Schmeisser is an award-winning glass and metal jewellery designer and maker, based in Naarm/Melbourne. Her work showcases her natural and responsive engagement with precious metals, through a playful series of silver, oxidised silver, and gold pieces. Occasionally working with gemstones, she seeks to hero the cuts and colours of beautiful stones within her work. Each piece is thoughtfully considered by Schmeisser resulting in expressive works which are unique to the wearer.
Schmeisser has exhibited across Australia including Pieces Of Eight Gallery, JamFactory and Craft. She completed a Bachelor of Visual Arts (Glass) at the Australian National University and an Advanced Diploma in Engineering Technology (Jewellery) at NMIT. Schmeisser also completed a student exchange in Japan and an artist residency in Greece.
—
Material:  seed pearls and seed rice pearls, 9ct white gold clasp on silk
Dimensions: 18.6cm including clasp