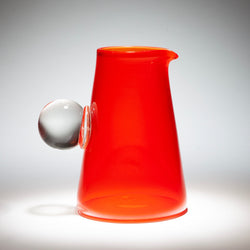 Hamish Donaldson— Nexus Jug in Red
The NEXUS jug takes a unique approach to the handled jug with a solid glass orb, asking the user to re asses how they interact with this function. giving it sleek aesthetics and playful function.
—
Hamish Donaldson (He/Him) is a glass artist based in Mornington Peninsula. He comes from a lineage of glass artists, from his grandparents glass engravings to his parents both being glass blowers. Hamish has been around glass all his life. Gaining his early training in the families studio before completing the JAM Factory associateship in Adelaide whilst also having opportunities to Hamish is now based back on the Mornington peninsula in Victoria working out of the family studio, producing a range of production and art works taking inspiration from the natural world and the deeper mysteries lying within it that can remind us of our deeply connected and interwoven oneness.undergo masterclasses at Pilchuck in America, the Glass furnace in Turkey and the glassworks in Canberra.
—
Materials: Blown Glass
Dimensions: approx. 20cm x 14cm x19cm