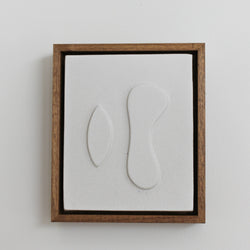 Britt Neech
Britt Neech — Shape and Shadow Studies #9
This piece belongs to an ongoing body of work 'Shape and Shadow 
Studies' which uses the grounding material of clay to create considered 
compositions of abstract shapes. The minimal colour palate is defined by 
the shadows cast by these shapes and enhanced by the subtle surface 
texture. Linked to nature through light, these pieces constantly evolve with 
the position of the sun. Each time of day offers a new perspective and is 
reflective of the circadian rhythms which carry us through our lives.
Britt Neech is an emerging Australian contemporary artist based in the Mornington Peninsula region of Victoria.
Britt allows the intuitive process of arranging shapes and objects in various compositions to guide the outcome of her pieces. Recent work responds to the artist's surrounding environment and personal experiences through refined aesthetics and a minimal colour palate. The natural beauty of the ceramic material is embraced and highlighted.
— 
Materials: clay, Australian Blackwood
Dimensions: approx. 24cm x 20.5cm