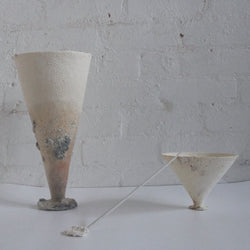 Yoko Ozawa – 'Moon Viewing Set', 2023
My perception of the true essence of Amphora is communication tools throughout the ages. In Japan, around 10000-6000, the well-known Jōmon decorative vessels were used for cooking and ceremonies. My work, 'Moon viewing vessels' for this exhibition, 'Jar/ amphoras', is inspired by one of the traditional vessels' shapes for offering sake to express gratitude for a good harvest and special festive occasions. The existence of amphora is the centre of our life all the time, invigorating us visually and functionally. I explore the ambiguous relationship between amphoras and human activities through my lifelong concept, the Japanese notion of Yohaku and how humans have got pleasure from them.
—
Born in Japan and based in Melbourne, Yoko Ozawa is a ceramic artist whose practices inspired by the Japanese notion of yohaku (blank space). Ozawa completed a Bachelor of Fine Art (Japanese painting) at Musashino Art University in Tokyo. In her study background, her ideas are often inspired by the traditional Japanese painting. Ozawa has made ceramics since 2003, and her work is frequently informed by an awareness of natural phenomena: seasonal transitions, temperature, light and shadows. After moving to Australia, she set up her studio in 2012 in Melbourne. Since then, she has exhibited widely within Australia, Japan and England in six solo exhibitions and numerous group shows.
—
Jugs
May 6- June 24
Read about the exhibition.

Jugs is part of Melbourne Design Week 2023, an initiative of the Victorian Government in collaboration with the NGV.
Material: stoneware, glaze, ash
Dimensions: approx. 36x 20cm