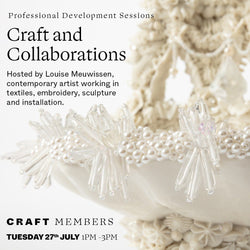 Craft Victoria
Tuesday 27 July Professional Development Session for Members: Craft and Collaborations
July Professional Development Session: Craft and Collaborations 

This Professional Development Session is hosted by Louise Meuwissen, contemporary artist working in textiles, embroidery, sculpture and installation. In this Professional Development session you will receive tailored feedback and advice on how to develop a collaborative approach to your practice
To support this Professional Development session, we recommend first attending the July Advice Clinic hosted by Louise
Professional Development Sessions will be held on: Tuesday 27 July
Time: 1.00pm - 3.00pm (15 minute 1-on-1 consultations sessions available, select your window when you book)
Professional Development Sessions are exclusive to members and limited, 15-minute sessions are available on a first come, first serve basis.
Where: Online Zoom Meeting
Price: $10 for Craft Victoria Members

This professional development session will operate as a Zoom Meeting. All you will need is a smartphone or a computer with a camera and microphone, and access to the internet. Please let us know if you're not able to access the required technology.
Please be advised you must be a member of Craft Victoria
Not a member? Explore Craft Victoria memberships today 
Image: Louise Meuwissen x Ebony Russel, The Artificial Kingdom - An altar to excess 2020 Porcelain, glaze, luster, imitation pearls, glass, swarovski crystals, plastic, pearls, quartz crystal, leaded crystal, felted acrylic, polyester thread, battery operated neon LED lights. 29 x 20 x 21 cm Photographer: Simon Hewson @fatografi_insta
Book your professional development session time-slot from the dropdown list below (15-minute sessions)