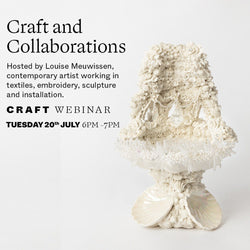 Craft Victoria
Tuesday 20 July Advice Clinic: Craft and Collaborations
July Advice Clinic: Craft and Collaborations
Craft Victoria's July Advice Clinic hosted by Louise Meuwissen, contemporary artist working in textiles, embroidery, sculpture and installation. The July Advice Clinic presents an hour-long professional webinar designed to discuss the benefits collaboration contributes to contemporary craft practice.
Date: Tuesday 20 July 2021
Time: 6-7 pm 
Where: Online Zoom Webinar
Price: Free for Craft Victoria Members
$20 for Non-members
Explore Craft Victoria memberships today
This Advice Clinic includes a 15-minute Q&A session so participants can harness Louise's extensive knowledge on crafting collaborations. Attendees are also encouraged to book a spot in the accompanying July Professional Development Sessions. 
Interested in a Professional Development Session?
Craft members also have the opportunity to book into a separate one-on-one Professional Development Session and receive personalised feedback with Louise. Professional Development Sessions are exclusive to members and a limited number of 15-minute sessions are available between 1-3pm on a first come, first serve basis.
Image: Louise Meuwissen x Ebony Russel, The Artificial Kingdom - An altar to excess 2020 Porcelain, glaze, luster, imitation pearls, glass, swarovski crystals, plastic, pearls, quartz crystal, leaded crystal, felted acrylic, polyester thread, battery operated neon LED lights. 29 x 20 x 21 cm Photographer: Simon Hewson @fatografi_insta