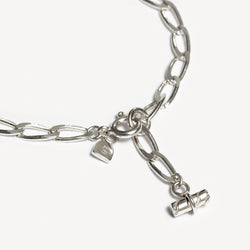 Rhiannon Smith
Rhiannon Smith — Bracelet No. 63 in Sterling Silver
Bracelet No.63 is comprised of a thick, flat curb link chain and is finished with a handmade miniature fob that gives a lovely weight to the finished piece.
Melbourne jeweller Rhiannon Smith started her handcrafted label Two Hills in August of 2011. Named after the matriarch of her large family, the label was intended to reflect all aspects of the feminine. 
Having completed both a BA in Fine Art, majoring in gold and silversmithing, and an Advanced Diploma in Engineering Technology Jewellery at NMIT, Rhiannon's creative process and attention to detail are intrinsic elements in the creation of all Two Hills jewellery. While many of her collections are born from travels overseas, Rhiannon is committed to manufacturing locally with each piece being handmade in her Melbourne studio.
—
Materials: available in sterling silver or rich gold plate over sterling silver

Dimensions: approximately 6mm wide by 35mm diameter