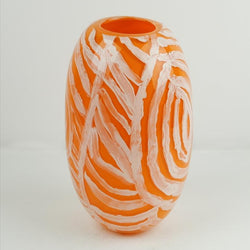 Ninuku Arts, Mrs Fatt
Ninuku Arts (Mrs Fatt) — Kuru Ala (Small) Vessel
In 2018, the artists of Ninuku Arts including Mrs Fatt undertook a revelatory and exciting new project to produce artwork in glass. The senior artists were inspired to pursue glass after a visit to the studios of JamFactory in Adelaide as part of a DESARTS professional development program.With the support of project funding from the South Australian government, the artists of Ninuku learned to adapt traditional brush and mark making techniques to recreate their individual tjukurpa and walka designs.
Working with a base palette of black, dark blue, ochre and red, similar to those employed by the artists in their canvas painting, JamFactory's glass studio produces starter glass bubbles that are then sent to the community for the artists to paint with enamel paints. These works are then fired in a small kiln before heading back to the JamFactory where they are blown into forms directed by the artists from afar.
–
Before her passing in 2021, Mrs. R Fatt (1959-2021) was an important member of both Ninuku Arts and Tjungu Palya Art Centres. She was renowned not only for her paintings depicting traditional stories, but also as a model of strength and integrity, as described by Ku Arts board and staff.
2 February - 4 March 2023
Guest Curated by Margaret Hancock Davies and Holly Grace.  
Clare Belfrage / Mr Donegan / Mrs Fatt / Brenden Scott French / Holly Grace / Jessica Loughlin / Kirstie Rea
Material: Glass
Dimensions: 290 x 165 mm
Please note, all works will be available for collection at the end of the exhibition on March 3. For shipping enquiries, please contact shop@craft.org.au who will be available to provide an Art Courier quote.