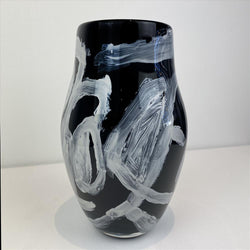 Ninuku Arts (Mr Donegan) — Pukara Vessel
The vessel is a functional vase with a Tjukurpa story interpreted in paint. It depicts the kaliny-kalinypa (honey grevillea plant) story which Anangu use as a type of bush lolly, sucking the nectar out of the plant. In the Tjukurpa a father and son, Wati Kutjara Wanampi (two male water snakes), are living at Pukara, an important waterhole site near Irrunytju (Wingellina). Because of the kaliny-kalinypa which is found at the site the water there has a sweet taste and lots of people go there to access it. But father Wati Wanampi doesn't like this and he tells them to go back to their own country. The people leave and the father and son travel to Willuna, where they camp for weeks. When they return to Pukara, they are awoken by a buzzing sound. Minyma Punpunpa (the female flies) are making lots of noise as they buzz around the honey bush. This prompts the father and son to get up to go and collect honey. While they are doing this, a Wati Mututa (black ant) finds the father and son, and spears the son in his side. The young son starts spitting and he spits up the yellow and orange seeds of all the different types of honey grevillea. These plants can still be found at this site today. There is a big variety of honey grevillea plants including kaliny-kalinypa, ultunkunpa, piruwa and witjinti.
–
Ngaanyatjarra/ Pitjantjatjara artist Mr Donegan (1940 - 2022) began painting professionally about 2000, as one of the first painters of the local artists, co-operative Papulankutja Artists in Western Australia. On the passing of his wife Donegan moved back to Kalka in the A_angu Pitjantjatjara Yankunytjatjara Lands (APY) where he started painting at Ninuku Arts. In 2010 Donegan won the National Aboriginal & Torres Strait Islander Art Award.
2 February - 4 March 2023
Guest Curated by Margaret Hancock Davies and Holly Grace.  
Clare Belfrage / Mr Donegan / Mrs Fatt / Brenden Scott French / Holly Grace / Jessica Loughlin / Kirstie Rea
Material: Glass
Dimensions: 340H x 180W mm
Please note, all works will be available for collection at the end of the exhibition on March 3. For shipping enquiries, please contact shop@craft.org.au who will be available to provide an Art Courier quote.