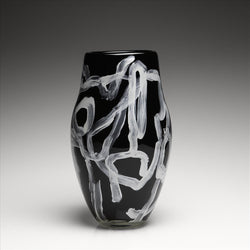 Ninuku Arts (Mr Donegan) — Papa Tjukurpa Vessel
Papa Tjukurpa; Dingo Dreaming. "Ngayuku mamaku ngura Dulu", my father's country rockhole called Dulu. At this place there are lots of women and men dingo's living there, digging up the water and hunting at Pilantjara rockhole in the country area of Dulu. This is papa walka, dog design.
–
Ngaanyatjarra/ Pitjantjatjara artist Mr Donegan (1940 - 2022) began painting professionally about 2000, as one of the first painters of the local artists co-operative Papulankutja Artists in Western Australia. On the passing of his wife Donegan moved back to Kalka in the A_angu Pitjantjatjara Yankunytjatjara Lands (APY) where he started painting at Ninuku Arts. In 2010 Donegan won the National Aboriginal & Torres Strait Islander Art Award.
2 February - 4 March 2023
Guest Curated by Margaret Hancock Davies and Holly Grace.  
Clare Belfrage / Mr Donegan / Mrs Fatt / Brenden Scott French / Holly Grace / Jessica Loughlin / Kirstie Rea
Material: Glass
Dimensions:  340H x 180W mm approx.
Please note, all works will be available for collection at the end of the exhibition on March 3. For shipping enquiries, please contact shop@craft.org.au who will be available to provide an Art Courier quote.