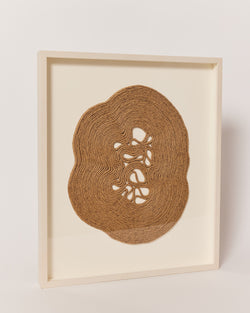 Mali Taylor — 'Untitled II', 2023 Framed Ceramic Sculpture
A one-off sculptural work. This piece has been constructed through the methodical proces of hand rolled coils. Using earthy stoneware clays which exhibit flecks of glossy minerals.
—
Mali Taylor is a ceramic artist based in Naarm/Melbourne. Her hand coiled works are inspired by dendrochronology (the study of tree rings), ripples in water and strata levels exposed in cliff faces and mountain ranges. The forms of her sculptural pieces are heavily influenced by topographical maps of mountains and natural landforms such as boulders, rocks, rivers and termite mounds.
Taylor was a finalist in Craft Victoria fresh! 2019 and received the Sofitel Melbourne on Collins, Emerging Craft Practitioner Award, 2019. Taylor completed a Bachelor of Fine Arts (Ceramics) at RMIT, 2019.
—
Material: Stoneware, glaze
Dimensions: H46 x W39.5 x D3.5cm