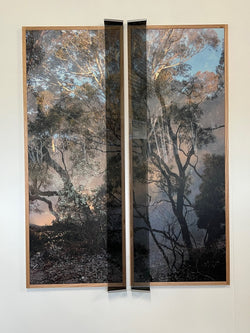 Kristie Rea
Kirstie Rea — Untitled Sculpture
Through her artwork Rea captures the way we visually stitch together a view. Using glass as surface to present the reflection behind whilst also the transparency seen through, her resultant overlay photographic imagery displays a dreamlike haunting beauty.
–
Kirstie Rea is one of Australia's influential glass artists. Having worked in glass for over 35 years, she has amassed an impressive exhibition, residency, and teaching practice. In 2021 Rae was the first Australian glass artist to present a major solo exhibition at the celebrated Toyoma Glass Museum in Japan.
2 Febuary - 4 March 2023
Guest Curated by Margaret Hancock Davies and Holly Grace.  
Clare Belfrage / Mr Donegan / Mrs Fatt / Brenden Scott French / Holly Grace / Jessica Loughlin / Kirstie Rea
Material: Framed glass generated digital print, Glass, Brackets
Dimensions: 158H x 116 x 8D cm
Please note, all works will be available for collection at the end of the exhibition on March 3. For shipping enquiries, please contact shop@craft.org.au who will be available to provide an Art Courier quote.