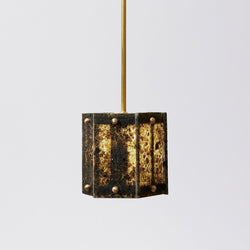 Juan Castro' Tourmaline Small, 2022
Tourmaline Cluster is a light installation inspired by the natural growth of tourmaline's elongated rectangular shapes with organic imperfections.
The fundamental idea was to make lights from materials that have been buried and forgotten for decades.
Both opposite poles play a juxtaposition in terms of materials due to the fact that the antique glass is made mostly of sand, from the ground where the filigree of tunnels are knitted. This statement also creates a metaphoric contradiction between the light from the lanterns and the dark form the subterranean quality of the tunnels.
"From the moment I learned about the project and the opportunity to respond to these fragments which had been recovered from the archaeological dig sites, I began to think about creating something that was a light source. I felt it would be beautiful to bring light to something that had been in the dark for so long."
—
Juan Castro is a social and cultural anthropologist and artist. The connection between anthropology and contemporary jewellery design arose from his final thesis, which focused on adornments and body modification through different cultures and the way in which it develops in contemporary society. His practice is based on traditional techniques and the inspiration of antique jewellery, all seen from a contemporary point of view.
Castro studied at the University of Seville and completed an Advanced Diploma of Jewellery and Object Design at Melbourne Polytechnic, 2016.
—
UNEARTHED Featuring: Ruby Aitchison, Claire McArdle, Jack Balfour, Juan Castro, Dale Hardiman with ACV studio, Jenna Lee, Tantri Mustika and Iluka Sax-Williams with Dan Bowran. Burnt, fired, melted down, and re-imagined. Ten artists transform discarded archaeological fragments uncovered from the Metro Tunnel Project's dig sites in a new exhibition at Craft this October.
—
Material: Archaeological Glass fragments, Resin, Brass
Dimensions: approx. 1300 cm (H) x 22 cm (D)