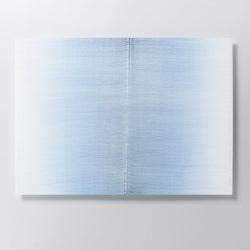 Jessica Loughlin — Resonance II
Through her quiet contemplative artworks Jessica Loughlin questions our perceptions of the physical world in which we inhabit. Her artworks are about light, space and distance. She is drawn to the vast landscapes of Australian interiors, especially the impressive salt lakes regions of South Australia, for the incredible light and its ability to disorientate our senses.
–
Jessica Loughlin is a leading glass artist, known for quiet contemplative artworks. She exhibits both locally and internationally, and in 2020 she was a finalist in the prestigious Loewe Foundation Craft Prize. In 2002 her career was celebrated via the national touring exhibition Of Light, and the publication of the same name produced by JamFactory, Adelaide.
2 February - 4 March 2023
Guest Curated by Margaret Hancock Davies and Holly Grace.  
Clare Belfrage / Mr Donegan / Mrs Fatt / Brenden Scott French / Holly Grace / Jessica Loughlin / Kirstie Rea
Material: Fused and enamelled Glass. Work to be hung on the wall.
Dimensions: 84H x 115W x 2D cm
Please note, all works will be available for collection at the end of the exhibition on March 3. For shipping enquiries, please contact shop@craft.org.au who will be available to provide an Art Courier quote.