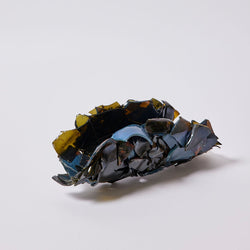 Iluka Sax-Williams, Dan Bowran
Iluka Sax-Williams and Dan Bowran, Marririning - Small, 2022
'Marririning' means too 'Renew' in the Taungurung language. The new Victorian Metro Tunnel project has recovered and resourced thousands of items found from the numerous project dig-sites. These pieces of old glass work were recovered and given to Iluka Sax-Williams & Dan Bowran to transform into a culturally relevant artistic masterpiece.Coolamon's are a traditional component used by Indigenous people all over Australia as an everyday item used to hold food, water, resources and cradle young bubup's (babies). Many Coolamon's were shaped by their user from a tree (Scar Trees predominantly) and formed into an oval curved shaped surface that could be held and transported.
Using heating and glass work technology today, we are able to implement new techniques and convert the pieces into a new purpose and feature.Indigenous people understand the natural cycles and processes and are able to manage their own wield of techniques to prioritise the continuation of these cycles gaining knowledge and aiding them through life.
Iluka Sax-Williams is a proud Tibrean (Torres Strait) and Taungurung artist. His broad artistic practice involves acts of cultural reclamation, pyrography, traditional dance, and fashion. His work is underpinned by relationships to Country and his love for sharing his culture. He is dedicated to enhancing Aboriginal and Torres Strait Islander representation throughout the creative industries and revitalization of Aboriginal culture in Victoria.
Dedicated to collaboration, Sax-Williams has teamed up with glass artist and teacher Dan Bowran to support the transformation of discarded fragments of glass.
As an artist and audiovisual engineer, Bowran has been working with sound and light as his materials of choice for many years. Now having taken this methodology and adapted it to the physicality of glass his work defines the boundaries, determining the possibilities and providing the structure to explore the innate properties of glass.
UNEARTHED
Featuring: Ruby Aitchison, Claire McArdle, Jack Balfour, Juan Castro, Dale Hardiman with ACV studio, Jenna Lee, Tantri Mustika and Iluka Sax-Williams with Dan Bowran.
Burnt, fired, melted down, and re-imagined. Ten artists transform discarded archaeological fragments uncovered from the Metro Tunnel Project's dig sites in a new exhibition at Craft this October.
Material: Archaeological Glass Fragments
Dimensions: 30 cm (L) x 12 cm (W)