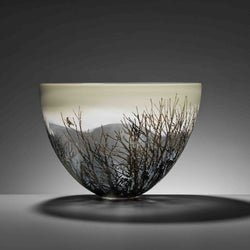 Holly Grace — As the crow flies, III/III, 2023
Having spent time hiking solo, often in the more remote regions of the parks where wild brumbies are plentiful, Grace creates work that reflect the soft colours and hues of the landscapes she encounters. Gathering multiple layers of colour glass on her hot glass forms before meticulously sandblasting, etching and cold working the surfaces, she reveals the stories of place and its inhabitants, silhouetted against the luminosity or gentle glow created by the refraction of light through glass.
–
With more than 20 years as a glass artist, Holly Grace has carved a successful career in this challenging medium. Much of her early a career was spent travelling and undertaking residencies in the Northern Hemisphere where the contrast in light would form a foundational drive in her artworks. Grace's artwork is held in leading national collections.
2 February - 4 March 2023
Guest Curated by Margaret Hancock Davies and Holly Grace.  
Clare Belfrage / Mr Donegan / Mrs Fatt / Brenden Scott French / Holly Grace / Jessica Loughlin / Kirstie Rea
Material: Blown glass with glass powder and metal leaf surfaces and sandblasted landscape imagery.
Dimensions: H25cm x W34cm x D34cm
Please note, all works will be available for collection at the end of the exhibition on March 3. For shipping enquiries, please contact shop@craft.org.au who will be available to provide an Art Courier quote.