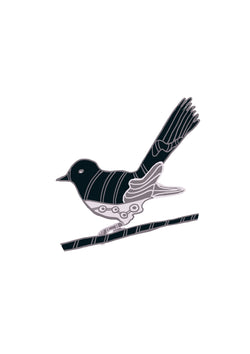 Emma Bamblett - A5 'Willy Wag Tail' Print
Emma Bamblett is a proud Wemba Wemba woman with connections to the Ngadjonji, Gunditjmara and Taungurung people. 
Most of Emma's artwork is deeply personal, representing the stories and struggles for vulnerable children, youth and families through whom she meets in her occupation. Emma prefers to paint with bright and vibrant acrylic colours in her artwork, as she hopes people see and feel what she is feeling when they look at her paintings.
'The Willy Wag Tail is a totem who provides connection to kindship family groups and land. She is also a message bird who would keep children safe and close to their families and homes'.
Materials: Paper
Dimensions: A5