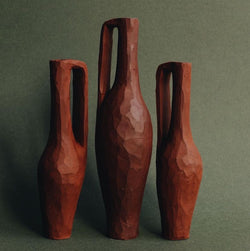 Craft On Demand Workshops: Ella Bendrups Part 2
Ella Bendrups' design experience encompasses seven years as a ceramic artist (with a following of 32k+ on Instagram), five years working within the styling industry and formal studies in Communication Design and Interior Design and Decoration at RMIT University. 
Since 2019 she has also led design based short courses at RMIT University and taught handbuilding courses and workshops for a variety of age and skill levels. She strives to create an inclusive and encouraging educational environment. 
Part Two of Finding Your Visual Identify discusses how to communicate your brand through visual elements including colour, texture and lighting! 

How it works: Once you've purchased this workshop, you'll receive a download link to the video and notes for the class! 
@ellabendrups
www.ellabendrups.com