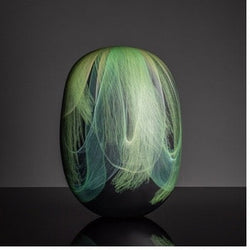 Clare Belfrage — Ironbark, Greens, 2021
In part her artworks have developed via a technical breakthrough involving the artist's innovative use of fine glass rods known as "stringers". In her process, Belfrage applies heavily stretched, thinned, and lengthened stringers to her blown glass forms. Rather than using commercially available stringers, Belfrage makes her own, painstakingly walking and stretching glass along tracks to produce very fine lengths of glass with the desired thickness, density, transparency and linear effects.
–
Clare Belfrage is an award-winning glass artist. She has an extensive national and international exhibition and teaching history. From 2009-2013 Belfrage was the Artistic Director of Canberra Glassworks, and in 2018, her career was celebrated as the South Australian Living Artist Festival feature artist.
2 February - 4 March 2023
Guest Curated by Margaret Hancock Davies and Holly Grace.  
Clare Belfrage / Mr Donegan / Mrs Fatt / Brenden Scott French / Holly Grace / Jessica Loughlin / Kirstie Rea
Material: Blown glass with cane drawing, sandblasted and pumice polished.
Dimensions: 43H x 31W x 16D cm
Please note, all works will be available for collection at the end of the exhibition on March 3. For shipping enquiries, please contact shop@craft.org.au who will be available to provide an Art Courier quote.