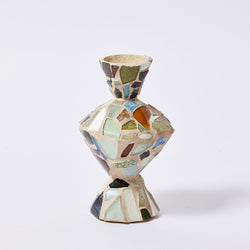 Tantri Mustika
Tantri Mustika, Treasured to trashed: Trashed to treasured no.4, 2022
Drawn to the mixed-medium remnants discovered within the dig, Mustika has been experimenting with sculptural clay bodies covered by careful arrangements of smaller fragments. Meticulously placing each piece one by one, a terrazzo-like surface evolves through the layering of materials over time. This series showcases hand formed ceramic vessels encrusted and decorated with fragments of waste materials from a time passed and re-imagine them into something beautiful for a new use.
Tantri Mustika is a Melbourne-based ceramicist who makes unique and colourful ceramics by incorporating meticulously hand-stained and marbled clays, mimicking characteristics of natural stones. Her interest in the material capabilities of clay can be seen as a catalyst of her practice; producing small batches allows each piece to be unique and one of a kind through the techniques employed.
UNEARTHED
Ruby Aitchison, Claire McArdle, Jack Balfour, Juan Castro, Dale Hardiman with ACV studio, Jenna Lee, Tantri Mustika and Iluka Sax-Williams with Dan Bowran.
Burnt, fired, melted down, and re-imagined. Ten artists transform discarded archaeological fragments uncovered from the Metro Tunnel Project's dig sites in a new exhibition at Craft this October.
Material: Clay, Archaeological Glass Fragments
Dimensions:20cm (H) x 9cm (W)