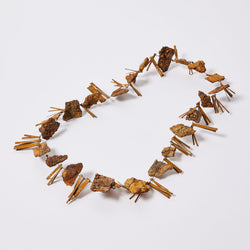 Ruby Aitchison
Ruby Aitchison, Untitled Neckpiece 08, 2022
A desire to honour these fragments which are embedded with Melbourne's history has lead to works which bring into sight the material intricacies, reflecting their enduring life. Visible are the cracks and fossilizations, the conglomerate and amalgamated matter that has developed over time within the ground. These assemblages create articulations and linkages between fragments, drawing connections and relating them to a body scale where they can be observed closely and intimately.
"I've enjoyed sorting through the fragments and seeing the rich textures and materiality given to the objects after years of being buried in the soil. The intimacy of these tiny objects, which have these histories of holding together these much larger things, / and now are rusted and more delicate interests me."
Driven by material experimentation, Ruby Aitchison's process-driven practice explores the juxtaposition of organic material with metal, generating dialogues between materials to develop objects to describe their making. Her work has been exhibited locally, interstate and internationally, participating in the Marzee International Graduate Show 2012, Netherlands, and  2013 in Munich. She received the Future Leaders award at Fresh! 2014 and more recently was the 2016 Diana Morgan Postgraduate Award at RMIT University.  lives and practices in Melbourne and holds a Masters of Fine Art from RMIT University.
UNEARTHED
Featuring: Ruby Aitchison, Claire McArdle, Jack Balfour, Juan Castro, Dale Hardiman with ACV studio, Jenna Lee, Tantri Mustika and Iluka Sax-Williams with Dan Bowran.
Burnt, fired, melted down, and re-imagined. Ten artists transform discarded archaeological fragments uncovered from the Metro Tunnel Project's dig sites in a new exhibition at Craft this October.
Material: Archaeological material provided by Metro Tunnel Creative Program [ferrous fragments], mild steel
Dimensions: 60 cm (L)