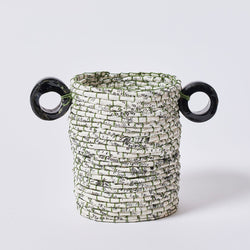 Jenna Lee, con/sumption no.2, 2022
While simultaneously being dispossessed from land and waters and having children stolen, our words were served up with no connection to people or place for consumption of colonists in the form of 'Aboriginal Word handbooks'. The series 'con/sumption' combines pages of these harmful books with remnants of colonial objects of consumption (glass bottles) into transformed and translated forms of cultural pride. Working with these materials has been a new and exciting challenge – the materials themselves ask me to step outside my traditionally paper-based practice. I had to think of ways the paper from books I work with is connected to these objects through ways outside of just materiality.
"I found that it was only on digging through the materials and studying their forms and origins did a clear series form, with the aim of not altering the archaeological remains too much, but rather adding to them to change the way they are read."
Jenna Lee is a Gulumerridjin (Larrakia), Wardaman and KarraJarri Saltwater woman with mixed Japanese, Chinese, Filipino and Anglo-Australian ancestry. Using art to explore and celebrate her many overlapping identities, Lee works across sculpture, installation, and body adornment.Driven to create work in which she, her family, and the broader mixed First Nations community see themselves represented, Lee builds on a foundation of her father's teachings of culture and her mother's teachings of paper craft.
UNEARTHED
Featuring: Ruby Aitchison, Claire McArdle, Jack Balfour, Juan Castro, Dale Hardiman with ACV studio, Jenna Lee, Tantri Mustika and Iluka Sax-Williams with Dan Bowran.
Burnt, fired, melted down, and re-imagined. Ten artists transform discarded archaeological fragments uncovered from the Metro Tunnel Project's dig sites in a new exhibition at Craft this October.
Material: Fragmented Glass, pages of 'Aboriginal Words and Place Names', bookbinding thread.
Dimensions:10 cm (H) x 10 cm (D)