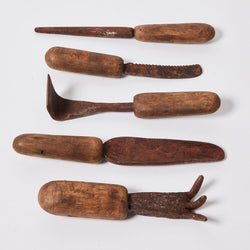 Claire McArdle
Claire McArdle, Gardening Tools Set 1 of 2, 2022
Two sets of gardening tools were forged from a pickaxe found within the dig. Once used to cut through the ground, the steel has been reshaped and these tools can now be used to grow plants and tend to the earth. There are two sets so that the activity can be shared.
Claire McArdle is a Melbourne-based artist whose practice explores jewelery and objects and the experiences imbued by them. Her works create contexts for conceptual works to influence their perception and are realized through a broad range of materials, including metal, textiles, stone, and wood. Claire has held over ten solo exhibitions including, three overseas in Estonia, Germany, and Thailand. Her work has been exhibited in Thailand, Hong Kong, USA, UK, Germany, France, Estonia, Austria, and The Netherlands. She has undertaken residencies in Australia, Mexico, Iceland, and Estonia.
UNEARTHED
Featuring: Ruby Aitchison, Claire McArdle, Jack Balfour, Juan Castro, Dale Hardiman with ACV studio, Jenna Lee, Tantri Mustika and Iluka Sax-Williams with Dan Bowran.
Burnt, fired, melted down, and re-imagined. Ten artists transform discarded archaeological fragments uncovered from the Metro Tunnel Project's dig sites in a new exhibition at Craft this October.
Material: Archaeological fragment pickaxe, Recycled Mountain Ash and recycled messmate, gum sap and wax.
Dimensions: variable