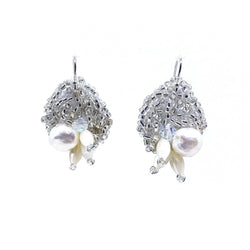 Louise Meuwissen — Silver and Pearl Earrings
—
Louise Meuwissen is an Australian textile artist, living and working on Wurundjeri country. Working with fabric, found material and embroidery she creates paintings, sculptures and wearable art. Meuwissen's work considers the complex individual and collective relationships we form with objects, how they come to embody meaning and value, and carry energy. Her work is informed by adornment and decoration, craft, and the fluxing of fashion - underpinned by discardure and collecting, and the interplay between labour and luxury. Her most recent bodies of work consider the unknowable and the invisible, informed by research investigating devotion, the Sublime, hoarding, storytelling and mythology.
Meuwissen has exhibited across Australia including Heide, Craft and Felt Space. She has completed a Bachelor of Fine Arts (Painting) (Printmaking) at the Victorian College of the Arts, 2013.
—
Material: glass, pearls, beads, 925 sterling silver
Dimensions: approx.
Care Instructions: Store away from direct sunlight and take care not to expose to make-up, sunscreen, moisturisers or toothpaste. Pieces can be spot cleaned using luke-warm water and baby-soap and dried immediately with hair-dryer using coldest setting.