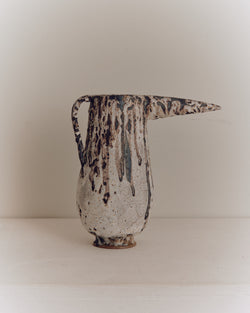 Danielle Thiris — Keeping The Reigns Loose, 2023
This is the original 'Jug For Gio', an ode to the works of artist Gio Ponti. Thiris decided to give Jug For Gio a makeover and further adorn his original 1980's le tan with some extra pizzazz.

Jug For Gio now carries an ash glaze made from the remnants of nightly campfires, collected from a recent camping trip with Thiris' good friend Joey Chorizzo. This piece also holds their 'around the campfire' tales.
—
Danielle Thiris is influenced by her Cypriot and Greek Heritage her practice explores prehistoric vessels, ceremonial objects and nature (human, animal and plant). Thiris uses a South Australian terracotta clay and hand builds her pieces using a combination of traditional techniques, such as coiling, pinching and carving. Thiris exhibited as part of NGV Melbourne Design Week, 2021 & 2022. Thiris completed a Bachelor of Visual Arts at the University of South Australia and a Bachelor of Textile Design at RMIT.

Melbourne Design Fair 2023
May 19- June 21
Read more about this years MDF here.

The Melbourne Design Fair 2023 is curated by the National Gallery of Victoria and delivered in collaboration with the Melbourne Art Foundation.
Material: terracotta, terra sigillata, slips, oxides, ash, glaze, midfire.
Dimensions: